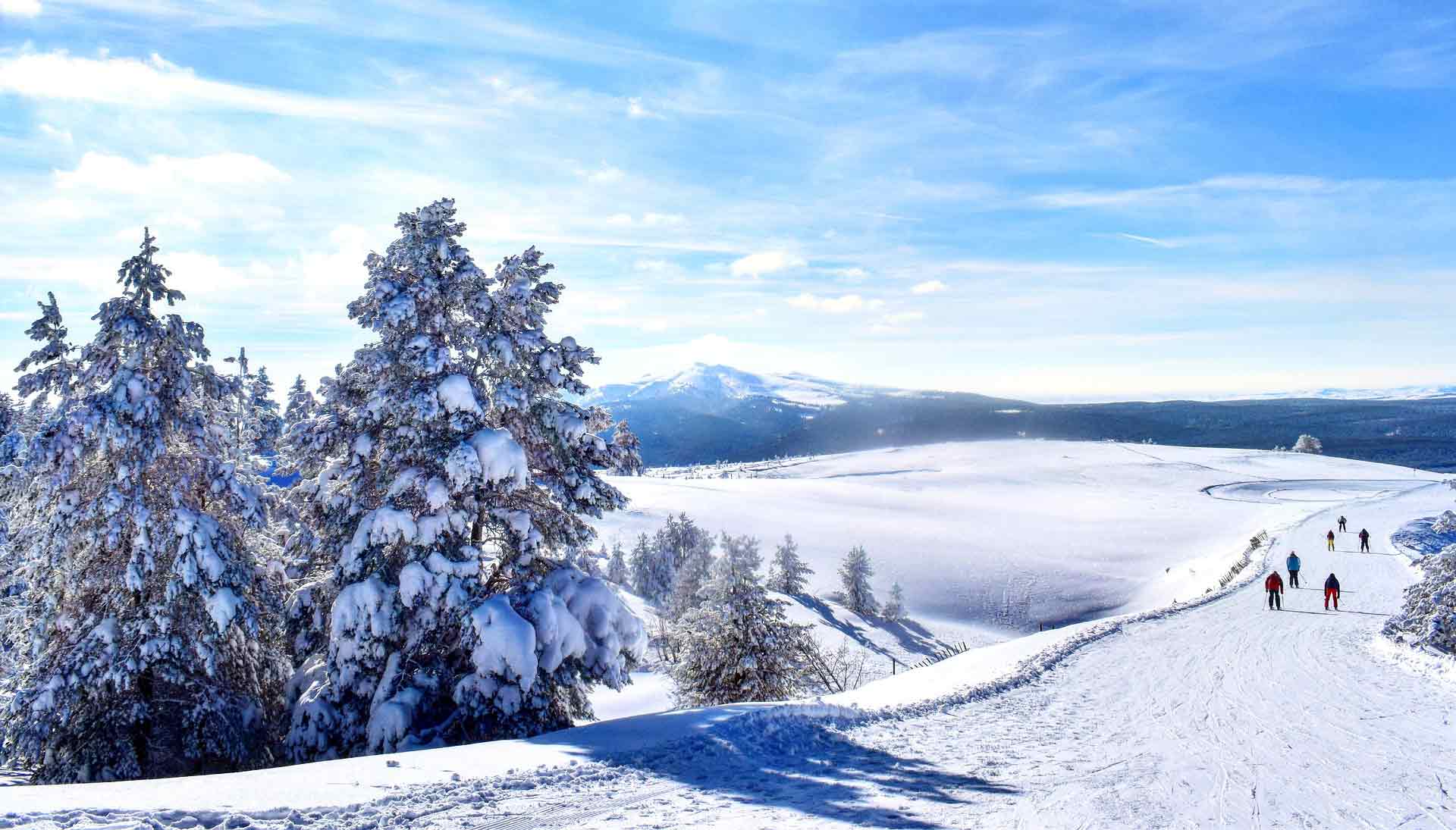 The Sarıkamış Ski Center, built on Çamurlu Mountain in Sarıkamış district of Kars, is 4 kilometers from Sarıkamış. Crystal Snow, the most valuable type of snow for skiing, falls on Sarıkamış and on the Alps, which is the most popular ski resort in the world.
Surrounded by yellow pine forests, Sarıkamış Ski Center, has two important reasons why it is indispensable address of snowboard enthusiasts and ski lovers. We can say that one is Crystal Snow and the other is compared to Palandöken or Uludağ, Sarıkamış Ski Center is calm and untouched nature.
When you come to Kars, it is not possible to return without stopping by Sarıkamış and seeing this magnificent view. It is possible to reach the ski center, which is 60 kilometers away, in 45 minutes. There are facilities where you can rent everything you need for skiing. If you don't know how to ski, or if there are people in the family who don't know or don't like it, don't worry. This is one of the best places to learn skiing or snowboarding.
Traveling through the white snow country surrounded by yellow pine forests on a horse-drawn sleigh tour, seeing the wonderful squares where the sky and the earth are mixed together is a great alternative activity for non-skiers.
Crystal Powder Snow
If you are planning to visit Kars in winter and Sarıkamış is on your to-do list, it is useful to note that the ski season starts in December and continues until the beginning of April. Situations such as not being able to ski during the season, not being suitable for skiing due to snow fall are not common in Sarıkamış.
The number of days which it snows is about 50-60 days and for the rest of the year there is plenty of sun. Despite this, crystal powder snow, which stays on the ground for 5 months, preserves its freshness as in the first snow fall throughout the season and does not ice.
Crystal powder snow, which is the most suitable snow type for skiing, only falls on the Alps and on Sarıkamış in our country throughout the world. It is one of the rare areas suitable for snowboarding and off-track skiing. Moreover, the pine forests surrounding the ski slopes break the wind and show spectacular views.
Everyone Can Ski at Sarıkamış
The year-round snowfall on Sarıkamış reaches 1-1.5 meters. The total track length is 25 kilometers with 9 tracks. The 5 tracks from the summit to the first stage are medium and hard level red and black tracks. The two tracks that descend from the first stage are blue and green tracks, on which every beginner can easily ski.
Ski holidays are still one of the more "expensive" holiday concepts and preferred by those above a certain economic level. One of the important features that distinguishes Sarıkamış ski center from other ski centers is that it changes this situation. In Sarıkamış, both ski equipment rental prices and chairlift are very affordable compared to other ski centers, so that everyone can ski.
You can spend one day of your holiday in Kars by going to Sarıkamış, the land of crystal snow. If you love skiing, you will be amazed here, and after that you will want to come to Sarıkamış every winter. You can rent all kinds of ski equipment you need at an affordable price, if you have come as a family and if you are not skilled, you can learn to ski this winter for hourly fee.
Don't Miss the Winter Games Festival at Sarıkamış
You can plan your holiday to coincide with the Sarıkamış Winter Games Festival and enjoy the winter games to the fullest. The festival, takes place in February or March every year, which is full of exiting moments and colorful scenery, is the most entertaining time in Sarıkamış for family holidays or crowded groups of friends.
Frequently Asked Questions About Sarıkamış Ski Center
1. Where is Sarıkamış ski resort?
Dünyanın en uzun pistlerinden birine sahip Sarıkamış Kayak Merkezi, Türkiye'nin Doğu Anadolu Bölgesinde bulunan Kars ilinin  Sarıkamış ilçesine 4 kilometre uzaklıktaki Çamurlu Dağı'ndadır. 
2. When is the best time to go to Sarıkamış ski resort?
You can go to Sarıkamış ski resort between December and March, when it receives the highest snowfall. The fact that the thickness of the snow is suitable for skiing in the said season and the quality of the falling snow increase the interest.
3. How to get to Sarıkamış Ski Resort?
If you are going to travel by public transportation, you can take a taxi from the center where the facilities are located after reaching the district with the shuttles coming from Kars to Sarıkamış. Renting a car can also be considered as an alternative.